Live Sports

Streaming Solutions
Webnexs offer complete live sports streaming solution that enables you to distribute and monetize live and broadcast live sports events from any anywhere
Contact Us
Easy Professional Live
Sports Streaming Experience

Camera
VideoFiles
Encoder
Encoder

Streaming Cloud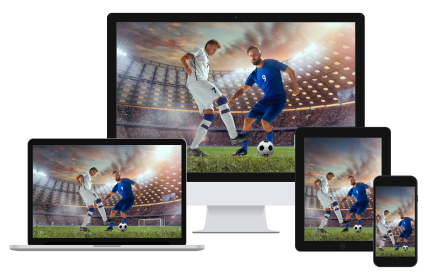 OTT Platform
Webnexs Live Sports Streaming Solutions
Webnexs offer a streamlined platform for live sports, helping you expand your fan base without exceeding your budget. It stands out as a cost-effective streaming solution. With Webnexs streaming cloud services, you gain flexibility and affordability in sports streaming. Within seconds, you can have complete control at your fingertips. 
Webnexs live streaming solutions efficiently manage costs, reduce complexity, increase revenue, and enhance fan engagement. The flexibility of Webnexs live streaming solutions enables seamless delivery to laptops, smartphones, and OTT devices like Chromecast and Roku.

Flawless
Live Streaming

Customized Video
Player

Live Recording &
Video Playback

Easy to Use
FLexibility in
Monetization
Start Your Live Sports Streaming
Success Journey Here
Advantages and Special Features of
Webnexs Live Sports Streaming Solutions

Stream to any device
Webnexs Live is designed to be compatible with all devices, ensuring your sports fans can access your live streams and prerecorded shows anytime, anywhere.
Smooth Streaming Experience
It supports adaptive multi-bitrate streaming, auto-scalable sports event streaming, even during peak hours. Broadcast high-quality live sports events from various platforms.

White label apps & platforms
Personalize your video player with your logo and colors, making your brand the focal point. You have complete control over the appearance and style of your content.

Stream Live sports securely
live streams are secure with SSL encryption & advanced DRM. It prevents piracy with screen recording protection & watermarking, safeguarding your live sports events.

HD Video Broadcast
With our cutting-edge live sports broadcasting solution for excellent video quality every time. Deliver high-quality videos up to full HD resolution.

Video Analytics
Analyze audience behavior, including attention span, device usage, and viewing habits. Gain insights, enable live engagement tracking, and monitor content quality in real time.
Webnexs Live sports streaming solutions are used by more than 170 countries world wide. Right from the world cup Football in Argentina to cricket in England, webnexs technology powers sports streaming. Join webnexs streaming solutions to enjoy exclusive benefits.